Muzzle Brake Installation on a Precision Rifle: Timing and Installing an OPS R3E2C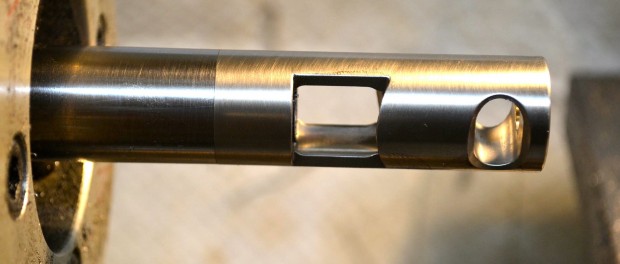 The OPS R3E2C muzzle brake has been receiving excellent reviews and we decided to install one on our 243 Winchester Remington model 700.
Installation of the OPS brake will require us to thread the barrel and time (make sure the ports are up) the brake.  While we have the barrel mounted, we will also make a custom thread protector.
The contents of Rifleshooter.com are produced for informational purposes only and should be performed by competent gunsmiths only. Rifleshooter.com and its authors,do not assume any responsibility, directly or indirectly for the safety of the readers attempting to follow any instructions or perform any of the tasks shown, or the use or misuse of any information contained herein, on this website.
We ordered the following items from Brownells:
In addition to installing the OPS R3E2C muzzle brake , a thread protector for the applications when we wouldn't want to use the brake will be fabricated.
This brake, like many other directional brakes on the market, needed to be timed.  This means there is a top and bottom. On preexisting builds this is typically accomplished with the use of shim washers.  On new construction, the preferred method is to time the brake on the barrel.

To time the brake, the brake was installed after the tenon was threaded and cut.  The orientation of the top of the brake and top of the barrel were noted.  The tenon's shoulder was then incrementally re-cut until they aligned

To determine how much the shoulder needed to be set back, 1 was divided by the number of threads per inch.  In our case, 1/24=.042″.  This means for every .042″ the shoulder is set back, the brake will turn one revolution.  To make a half turn, divide this value in half, for a quarter turn by four and so on.  So if the brake needed to be turned one half revolution, (.042″)(.5)=.021″.  A .021″ cut allowed the brake to rotate one half a turn.

In practice, we made lighter cuts then needed to avoid taking off too much material.  If the shoulder is set back too far, the shoulder will need to be set back for nearly one full revolution.